Collections

Seinyû XIII (1887~1944)
Black Raku tea bowl named "Araiso"

authenticated by Sokuchûsai,ex-collection of the Raku family

A glazing known as "jakatsuyû", jakatsu glaze, a silica-based white glaze being applied together with a black glaze to create a glaze effect in which the misty white tone emerging on the edge of the flowing black glaze, was already introduced by Dônyû III. Here Seinyû with his research on glazing developed this glazing effect further to achieve a crystallized white. "Araiso", stormy coast, derives from this glaze texture.
Red Raku tea bowl

made in the Sôkichi period

Kichizaemon is the name to succeed to take the headship of the Raku family while Sôkichi is the name reserved for the eldest son. Seinyû succeeded the name when he was 33 years old, which was the latest succession among all the generations. Therefore many of his tea bowls made during the Sôkichi period already reveal a certain level of perfection.
Seated figure of Jurôjin, the God of longevity

,ex-collection of the Raku family

Seinyû produced relatively a large number of ornaments among the Raku generations. Most of them were made to order as a unique piece, as the result remaining unknown to public. A careful attention to details and a rich use of colour are typical of Seinyû's style.
Red Raku footed tea bowl, bajôhai type,ex-collection of the Raku family

Low cylindrical tea bwol with a design of Daimonji

,ex-collection of the Raku family
Imogashira type mizusashi, taro potato shaped fresh water jar with yellow glaze,ex-collection of the Raku family

Flower vase with demon head shaped ears designed with Hakkei, the Eight Views,

,ex-collection of the Raku family

Incense burner in the shape of Hotei, the fat Buddha

,ex-collection of the Raku family
and others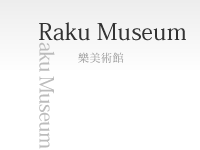 RAKU WARE | Raku Museum