Collections

Keinyû XI (1817~1902)
Black Raku tea bowl with two types of black glaze

This bowl is rather small and thinly modelled by a skillful trimming. Two types of black glaze are separately applied on either side of the bowl.
It is representative of the style of Keinyû characterized by a sophisticated artifice.
Red Raku tea bwol

authenticated by Rokurokusai,ex-collection of the Raku family

Inside the foot is marked with Keinyû's seal of his mid-career that spans between 38 and 55 years old. A dynamic use of the spatula to model the shape is overall visible. The piece is endowed with youthful energy and freshness of quality. It is presumably made when the artist was in his 40's.
Large incense burner in the shape of a goose

, ex-collection of the Raku family

This piece is the largest example of Raku ware. Keinyû domesticated a goose at home when he was producing this piece. It is surprisingly realistic in details capturing a vivid expression of a goose in real life.
Black Raku tea bowl named "Oozora"

authenticated by Saisei,ex-collection of the Raku family

White Raku tea bowl named "Shiohi"

,ex-collection of the Raku family
White Raku tea bowl, tôjinbue type, in the shape of a Chinese horn,ex-collection of the Raku family

Octagonal food container with green glaze with a design of a gourd

,ex-collection of the Raku family

Incense container in the shape of a dog

,ex-collection of the Raku family
and others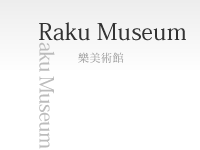 RAKU WARE | Raku Museum