Raku Museum

The Essence of the Raku ware: Tradition passed down over 450 years
The Raku Museum is situated immediately next door to the Raku family home and workshop. It was opened in 1978 by the 14th generation Kakunyû (1918~1980) and has a collection consisting primarily of ceramics made by successive heads of the Raku family, related documents and tea utensils passed down over the generations. The collection has been formed over 450 years as a resource from which future generations can learn about the techniques and artistry of their forebears enabling them to establish each individual style. The Raku Museum is, in effect, an encapsulation of the essence of the Raku tradition incessant over 450 years.
Opening hours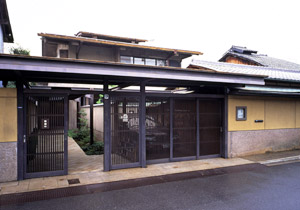 10:00 ~ 16:30 (last admission 16:00)
*advance reservations NOT required
Admission
vary depending on the exhibition
Closed
Mondays (except National Holidays) and during the re-installation
Exhibitions
4 times a year primarily on Raku ware and related tea utensils

current exhibition
New Year exhibition:

Raku ware and other tea utensils associated with New Year celebrations

Spring special exhibition:

Selected works of Raku successive generations to highlight 450 years' history of tradition and innovation.

Summer exhibition:

What is Raku? series organized for children and parents with simple texts to explain what is Raku.
Visitors are invited to handle some of the exhibits.

Autumn special exhibition:

Various themes around Raku wares and tea related art and utensils
Tangible Museum Programme
Visitors are invited to handle some of our collection.

further information skip to page Special Programme