About Us
Operations in the 2007 year-end
Museum activities

Public exhibition of works and related scientific information
Conservation and restoration
Collection and acquisition of works and related material

Research and publication

Research on Raku ware and the tea ceremony culture
Exhibition of the results of recent research
Publication of the results of recent research
A recent discovery of some material as well as re-examination of the existing documents has shed new lights on the Raku history, which has already been publicized. Our aim is to prepare the publication with regard to the Raku history and to our collection of works by Raku successive generations upon results of our research.

Educational and social operations

To organize the special viewing sessions for "Parents and Children" programmed for elementary school and junior high school children.
To organize various workshops and lectures programmed for children and students.
To work with other universities, schools and institutes for educational activities.
To cooperate for lifelong learning.
To work with regional cultural organizations and groups to co- organize lectures as part of the regional cultural development programme.
Tp promote a "Handling Museum" programme, inviting visitors mainly children, to handle the exhibits to learn.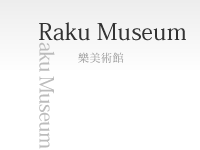 RAKU WARE | Raku Museum