Sagawa Art Museum Raku Kichizaemon Kan - Raku Kichizaemon Pavilion
It is an architecturally unique museum with the underground galleries constructed under the water garden on ground level where the tea room structure is built to resemble a floating isle.
The whole design was produced by Raku Kichizaemon XV based on the concept of "shu-ha-ri, literally "obeying-breaking-leaving", one of the most famous teachings expressed by Sen Rikyû on rules and manners - obey them to the limit (shu), break them (ha), even leave them (ri), but never forget their fundamentals (hon). The collection consists of works produced by the current generation since the year 2000 including black Raku tea bowls, yakinuki type black tea bowls, tea caddies, fresh water jars, etc. Works by Raku Kichizaemon XV are continually updated.
KICHIZAEMON X
MALEVICH: Malevich Drawings + Raku Kichizaemon XV・Jikinyu Tea Bowls


14 September 2021 – 16 January 2022
The Kichizaemon X series of exhibitions are explorative ventures in which ceramics by Raku Jikiny? (formerly Raku Kichizaemon XV) are shown alongside works that have moved and left a strong impression on him. The 'X' stands for the 'variable' engendered by the interaction between the two.
In this 12th Kichizaemon X exhibition, Jikiny?'s work is partnered with that of the Russian avant-garde artist Kazimir Malevich (1879-1935), founder of Suprematism and champion of non-objective art.
Malevich proposed that the purpose of art was not to concern itself with the representation of the outward appearance of things but to seek out their true essence. He believed that the highest order of creative art depended on the exercising of pure feeling and perception. His influence on the development of 20th century abstract and minimalistic art cannot be understated. The recent tea bowls of Jikiny? resonate closely with the principles of Suprematism in the sense that concerns with shape and colour have been increasingly rejected in a search for ultimate expressivity.
The juxtaposition of Malevich's drawings with Jikiny?'s newly made white tea bowls is an attempt to draw out the deep spirituality they both share.
For further information please consult the Sagawa Art Museum website.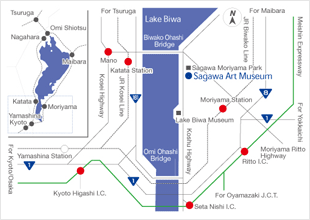 Sagawa Art Museum

2891 Kitagawa, Mizuho-cho, Moriyama-shi, Shiga 524-0102 JAPAN
TEL. +81(0)77 585 7800
FAX. +81(0)77 585 7810

---