Tangible Museum Programme


To hold a tea bowl is to grasp a microcosm of the universe in one's palms. It is to experience through one's fingers the delicacy and soft tactility of its form, the texture of the clay and glaze, its volume and mass, the finish of its foot and the contours of its interior. A world that can never be discovered only by looking will reveal itself. There are several programmes available:
These sessions are all provided in Japanese language only.
※Under the current COVID-19 crisis, all our collateral events have been cancelled until further notice.
When the situation has been improved, we will announce new dates for our events.
Please check our website or telephone us for more information.
1. Handling Sessions
(by telephone appointment at least two months in advance)
| | | |
| --- | --- | --- |
| Session dates: | | unconfirmed |
Visitors are invited to handle tea bowls by different generations of the Raku family in our tea room to deepen their understanding and appreciation of them. Explanations are provided by the museum's curator.

Starting time & Participating fee: Ask by our Contact form
Due to the limited number of seats we recommend advance booking.
For more details, please ask by our Contact form.
2. Special Tea Ceremony Sessions
(by telephone appointment at least one month in advance)
For visitors wishing to experience drinking tea from a Raku tea bowl, we are able to organize special tea ceremony sessions in our tea room using tea bowls by different generations of the Raku family. The sessions are hosted by Kichizaemon XV・Raku Jikinyū, who provides explanations and encourages discussion.

Telephone booking is required one month in advance.
Raku Museum Tel: +81 (0)75 414 0304
3. Tea for two
(exclusive for children under junior high school)
The session programmed for young children accompanied by their parents is hosted by Raku,Fujiko, consort of Kichizaemon XV・Raku Jikinyū, providing explanations comprehensible to young participants who are invited to drink tea in selected Raku tea bowls.
Telephone booking is required 3 months in advance.
Raku Museum Tel: +81 (0)75 414 0304
4. Special viewing sessions for parents and children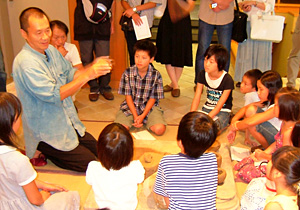 Participating Fee: Juniour high school and under : free admission
Adults: 900 yen (entitling to admission to the exhibition)
Telephone booking is required 3 months in advance.
Raku Museum Tel: +81 (0)75 414 0304