Collections

Tokunyû VIII (1745~1774)
Black Raku tea bowl named "Tokiwa"

authenticated by Saisei,ex-collection of the Raku family

As Tokunyû died at the age of 29 he left only a few examples of work during his short career. His lustrous black glaze is similar to that of his father. Nonetheless his bowl reveals a high level of sophistication even if made in his youth.
Red Raku tea bowl

,ex-collection of the Raku family

Tokunyû's tea bowls are characterized by certain naivity and freshness of quality though following fundamentals of the Raku traditional style, His red bowl in particular is endowed with an innocent charm, showing a heartwarming dedication to the making of a bowl.
Red Raku chrysanthemum dish

,ex-collection of the Raku family

Examples of tea utensils by the hands of Tokunyû are hardly known among his already limited numbers of work that remained. This rare example of dish has been passed down in the Raku family. A Tokunyû's careful attention to details is evident in this dish decorated with a fine carving of flower petals.
Black Raku tea bowl with a design of turtle named "Bantai no tomo"

authenticated by Seisai,ex-collection of the Raku family

Red Raku cylindrical tea bowl

,ex-collection of the Raku family

Red Raku tea bowl named "Nokiba no hana"

Red Raku incense container in the shape of turtle

authenticated by Kawakami Fuhaku, marked by the seal of Sottakusai,ex-collection of the Raku family
and others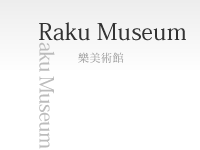 RAKU WARE | Raku Museum