Collections

Sônyû V (1664~1716)
Black Raku tea bowl named "Umegoromo"

authenticated by Sottakusai,ex-collection of the Raku family

This bowl has long been used in the New Year tea ceremony held at the Raku family home. A matt dry black glaze, known as kase glaze, which renders the bowl a texture of rusty iron, is unique to Sônyû who tried to re-appreciate the aesthetics pursued by Chôjirô.
Red Raku tea bowl

,ex-collection of the Raku family

The bowl has a massive form with its squared hip supported by a low foot. The well-melt lustrous glaze attained a subdued texture of a milky pale red. The oval textural pattern caused by the glaze effect on the front of the bowl is beautifully evocative.
Incense container in the shape of a clam with a relief motif of chrysanthemum

, ex-collection of the Raku family

A relief motif of chrysanthemum was achieved by adding layers of gofun powder made of pulverized shells on the fired surface. Varied from Sônyû's tea bowls characterized by a subdued tone of kase glaze, this piece reflects a cheerful mood prevalent of the Genroku period.
Black Raku tea bowl named "Kimô"

authenticated by Joshinsai,ex-collection of the Raku family

Black Raku tea bowl named "Hirabosetsu"

, among a series of bowls produced at Sônyû's 50th birthday, authenticated by Kakukakusai

Red Raku cylindrical tea bowl

,ex-collection of the Raku family

Black Raku incense burner in the shape of a lion dog

,ex-collection of the Raku family

Green glazed dish with a carved design of clematis

,ex-collection of the Raku family
and others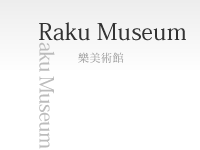 RAKU WARE | Raku Museum