Collections

Tannyû X (1795~1854)
Black Raku tea bowl named "Yaburemado"

authenticated by Rokurokusai,ex-collection of the Raku family

Two different types of glaze, one black and the other a transparent yellow called kihage glaze, are boldly applied, which gives this bowl a highly modern look. The name "Yaburemado", literally torn window, derives from the effect in which a crack caused by firing is coated with the transparent glaze so that the crack is visible.
Red Raku tea bowl named "Shûkaidô"

authenticated by Seisai

Rather large in size, the bowl has a powerful presence, stylistically representing Tannyû's red bowls. The trimming traces by the spatula horizontally and vertically applied are clearly visible. A contrast between a dark green colour caused by the kiln change against a vivid red clay body is harmonious and beautifully effective.
Oribe type tea bowl with a design of a plum blossom

authenticated by Kyûkôsai,ex-collection of the Raku collection

This bowl is after a style of Oribe black tea bowl, characterized by a dynamic vertical trimming as well as a horizontal trimming to achieve combed patterns. The interior bottom and the body bear a single pattern of plum blossom.
Red Raku tea bowl with a design of a turtle

authenticated by Ryôryôsai, design done by the Lord Tokugawa Harutomi,ex-collection of the Raku family

Red Raku tea bowl after the red tea bowl named "Zôtarô"

made by Kakukakusai authenticated by Kyûkôsai,ex-collection of the Raku family

Red Raku tea bowl decorated with Raku seals

,ex-collection of the Raku family
Incense container in the shape of shachi, dolphin,ex-collection of the Raku family
Nejinuki mizusashi, fresh water jar, produced at the Kairakuen kiln authenticated by Ryôryôsai,ex-collection of the Raku family
and others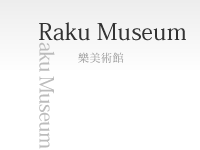 RAKU WARE | Raku Museum