Collections

Chônyû VII (1714~1770)
Black Raku tea bowl with a design of bamboo

, ex-collection of the Raku family

A lustrous pitch-black glaze is characteristic of Chônyû's glazing. On the front of the bowl a design of bamboo is achieved by leaving a part of the body unglazed. This effect is made possible as the application of glaze in Raku ware is done by brush.
Red Raku tea bowl,

ex-collection of the Raku family

Large and generous with its gently undulating lip, this bowl is endowed with a sense of composure. The large area around the foot is left unglazed to show the juraku clay, while the rest of the body is coated with a milky glaze with a fine crackling.
Green glazed incense container in the shape of an elephant

, ex-collection of the Raku family

In 1729 an elephant was sent from Nagasaki via Kyoto to Edo. Did Chônyû possibly see this elephant? Chônyû is particularly capable in sculptural modeling and produced well accomplished examples of incense container and decorative object.
Black Raku tea bowl
after the "Seven tea bowls by Chôjirô" authenticated by Ryôryosai marked by his seal,ex-collection of the Raku family

Red Raku tea bowl with a design of sacred gem

,ex-collection of the Raku family

Red Raku incense container in the shape of a horse

authenticated by Joshinsai,ex-collection of the Raku family
Black Raku incense container in the shape of biwa, a Japanese lute,ex-collection of the Raku family
and others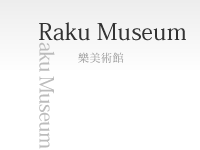 RAKU WARE | Raku Museum