Collections

Ichinyû IV (1640~1696)
Black Raku tea bowl named "Yamazato"

authenticated by Rokurokusai

On the front of the bowl a line engraving of a woodcutter holding a kind of hatchet and on the opposite side a faggot is applied. Application of such a figurative pattern was fist introduced by Ichinyû.
Red Raku cylindrical tea bowl named "Seitai"

authenticated by Ryôryôsai

It is representative of Ichinyû's style. Around the foot is left unglazed to show the elastic brown juraku clay underneath, which turned vivid red after firing on which a subtle glaze texture as the result of kiln change emerged.
Yakinuki type fresh water jar named "Yamakawa"

authenticated by Kyûkôsai marked with his seal

A firing technique known as "yakinuki" was introduced by Ichinyû for the first time. The black Raku kiln is used to achieve a high firing. The body is overall thinly glazed to show through the clay texture underneath.
Black Raku tea bowl named "Kashin"

authenticated by Sottakusai, ex-collection of the Raku family

Black Raku low cylindrical tea bowl named "Gyôten"

authenticated by Ittôsai

Red Raku tea bowl named "Akashi"

authenticated by Joshinsai
Red Raku hitoeguchi fresh water jar authenticated by Sugiki Fusai, ex-collection of the Raku family

Red Raku dish with a design of a Chinese palm

, ex-collection of the Raku family
and others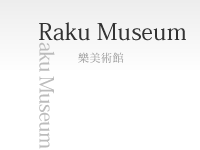 RAKU WARE | Raku Museum