Collections

Ryônyû IX (1756~1834)
Black Raku tea bowl, Kôetsu type

,ex-collection of the Raku family

This piece is not after Kôetsu's tea bowl but is an interpretation of what Kôetsu's tea bowls represent. Ryônyû's artifice is evident particularly in high command of trimming and the way the black glaze is applied.
Red Raku tea bowl named "Obasute"

, among a series of "Ryônyû's 200", authenticated by Sottakusai,ex-collection of the Raku family

This red tea bowl with a soft contour is among a series of 200 red tea bowls produced by Ryônyû. They were all named by Sottakusai, the 8th head of the Omote Senke school of tea. "Obasute" is the name associated with the moonlight over the Obasute Mountain that purifies the soul of an old woman.
White glaze cylindrical tea bowl

,ex-collection of the Raku family

Taking the trimming technique to the best advantage had been Ryônyû's pursuit of individual expression since his early age. His trimming here became even bolder to the supreme. The piece reveals Ryônyû's innovative style developed after his retirement.
Black Raku tea bowl with a design of sacred gem

with a carving done by the Lord Tokugawa Harutomi,ex-collection of the Raku family presented by the Lord Tokugawa Harutomi

Red Raku tea bowl

, among tea bowls produced at the 70th birthday,ex-collection of the Raku family

Red Raku tea bowl produced at the age of 63

,ex-collection of the Raku family

Red Raku tea vowl named "Shôjô"

authenticated by Sokuchûsai,ex-collection of the Raku family

Incense container in the shape of a wild goose

,ex-collection of the Raku family
and others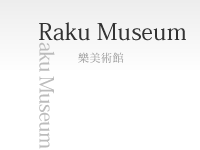 RAKU WARE | Raku Museum